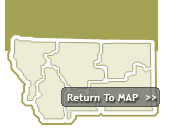 .Incorporated April 5, 1910, Polson has a history of lumbering, ranching and steamboats. The city was named after pioneer rancher David Polson. Steamboats played a major part in early transportation of freight and passengers. the tugboat "Paul Bunyan" was instrumental in early logging operations.

Polson is located on the Flathead Indian Reservation in a natural amphitheater at the south end of Flathead Lake. This charming lakeside community is the trading center for one of Montana's most fertile farming areas. In a prime cherry growing region and home to numerous cherry orchards, Polson celebrates with an annual Cherry Festival.

The broad, sweeping Mission Valley south of Polson is bordered by the rugged, snow-capped Mission Mountains. The Flathead River that flows from Polson features whitewater rafting and Kerr Dam. The National Bison Range at Moiese with its large herds of bison, elk, deer, antelope and bairn sheep is nearby, as well as the Ninepipes and Pablo Wildlife Refuges for bird watchers.
Two museums, The Miracle of America and Polson-Flathead Historical Museum, offer many displays and memorabilia. Polson also has several city parks located on the lake. Visitors are advised to keep their cameras ready for the area's own "Flathead Monster," sitings of which date back over a hundred years. Also, don't miss the Polson Golf Course..

Polson lies at the south end of Flathead Lake in northwestern Montana, on US Highway 93.


Cities near Polson Montana