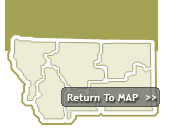 Lake County's oldest town, founded in 1854 by Jesuit Missionaries, is home of the St. Ignatius Mission. St. Ignatius had the first residence school for Indians, first hospital, first saw mill, and first flour mill in the state...The St. Ignatius Mission is over 100 years old and a visitor's delight. This beautiful landmark was built with local materials by Indians and missionaries in 1891. The million bricks were made with local clay, the lumber was cut in nearby foothills and the striking interior murals were designed and painted by brother Joseph Carignano. The 58 frescoes and murals on the church ceiling are worthy of European cathedrals. The St. Ignatius Church is open daily to visitors. .
.The St. Ignatius community offers many of the services you would find in larger cities, all within close proximity of the National Bison Range. Some of the valley's best hiking and fishing recreational areas are minutes from town. St. Mary's Lake, twin Lakes, Mission Falls and McDonald Lake are all within a short distance. But best of all are the friendly faces you will find on your trip to St. Ignatius...

Saint Ignatius is located in northwestern Montana, north of Missoula on US Highway 93.


Cities near St. Ignatius Montana