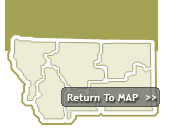 Known as the ""Garden City"" for its dense trees and lush green landscape, Missoula is nestled in the heart of the northern Rockies in Western Montana. A community of approximately 85,000 residents, Missoula lies in a mountain forest setting where five valleys converge.

Missoula started as a settlement called Hell Gate when C. P. Higgins and Francis Worden began a trading post to accommodate travelers. The settlement was later renamed Missoula, taken from a Salish Indian word meaning ""near the cold, chilling waters.""

.
Missoula serves as a center for education, medicine, retail and the arts. Located at the base of Mount Sentinel and on the banks of the Clark Fork River is The University of Montana. The 200-acre campus is one of the most beautiful in the nation and is home to 12,000 students.
Missoula offers a variety of recreation opportunities. Three major rivers run through the area: the famous Blackfoot River to the northeast, the beautiful Bitterroot River to the south and the Clark Fork of the Columbia River, which flows through the city. Fly fishermen, rafters, kayakers and canoers thrive on the waters of western Montana.
.
Missoula attractions include A Carousel for Missoula/Dragon Hollow, Art Museum of Missoula, Historical Museum at Fort Missoula, St. Francis Xavier Chruch, The Rocky Mountain Elk Foundation Wildlife Visitor Center and The Smokejumper Visitor Center. Historic Downtown Missoula features classic early-century buildings and offers unique shops, galleries, fine dining, cultural activities and an exciting nightlife.
Several major events Missoula celebrates include the International Wildlife Film Festical, Out to Lunch, Downtown ToNight, International Choral Festival, Farmer's Market, Saturday Arts and Crafts Market, First Night Missoula, Irish Cultural Celebration, Germanfest, and numerous other community events. Performing arts include Missoula Children's Theater, Missoula Symphony and The University of Montana performing arts. ...

Missoula is located in heart of the Rocky Mountains, in southwestern Montana.


Cities near Missoula Montana