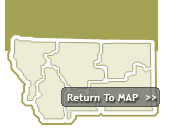 Stevensville was named after Isaac Ingle Stevens, authorized by President Lincoln in 1864. General Stevens had been in charge of military posts, operations, and Indian affairs in the Northwest Territory. He lost his life during battle in 1862 at Chantilly.
Flanked by the Bitterroot and Sapphire mountains, the small, historic town in the Bitterroot Valley offers beautiful views, outdoor recreation and watchable wildlife. For an overview of area history, visit the Stevensville Museum. Saint Mary's mission, located at the end of 4th Street, was the first Catholic Mission in the northwest and the first permanent white settlement in Montana.
The Mission was established in 1841 by Father Pierre DeSmet, who came in response to requests for ""Black Robes"" by various Indian tribes of present-day Montana and Idaho. The mission complex includes the chapel/residence, Father Anthony Ravalli's log house/pharmacy, Chief Victor's cabin and the Indian burial plot. All buildings have been restored to the 1880 era and are furnished with items built by Father Ravalli, Montana's first medical doctor. Chief Victor's cabin is restored as an Indian museum. Beautifully landscaped DeSmet Park was dedicated in 1991 to commemorate the 150th anniversary of the establishment of St. Mary's Mission.
The Stevensville Museum features the early growth and development of the Bitterroot valley with displays of artifacts, pictures and information panels regarding the history of the American Indian population (the Salish Indians), the Lewis and Clark Corps of Discovery expedition through the valley in 1805-1806, the arrival of Father DeSmet in 1841, the establishment of the earliest mission in what is now Montana, the development of Fort Owen as one of the earliest trading posts and the history of Stevensville itself. Displays of an early kitchen, wash-room, parlor and school are furnished with authentic items.
The Lee Metcalf National Wildlife Refuge is a 2,800 acre refuge along the Bitterroot River with an elevation of 3,370 feet. This refuge is a diverse combination of wetlands and forested riverbottom habitat. There are osprey, Canada geese and other waterfowl, bald eagles, coyotes, marmots, muskrats, mink, painted turtles and white-tail deer. Two walking trails provide good wildlife observation and photographic opportunities. Interpretive trails and a picnic area are featured in this area.
Elevation: 3,370 feet

Stevensville is located in southwestern area of Montana, in the Bitterroot Valley just south of Missoula on US Highway 93.


Cities near Stevensville Montana