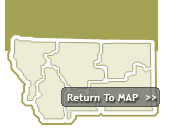 Hot Springs, founded in 1910, is named for the local hot mineral springs that still bubble today. Thousands of people seeking rest and relief from pressure travel to the town of Hot Springs to bathe in the fine mineral water and mud baths. Many revisit on a regular basis, enjoying the benefits and relief that the natural hot mineral waters bring in the treatment of arthritis, skin diseases, rheumatism, stomach ulcers, high blood pressure and many other ailments.

Opportunities for privacy, quietness, and relaxation abound in this area. Many lakes, streams and rivers provide excellent fishing for the avid fisherman. Nearby sight-seeing attractions include a tour of the National Bison Range at Moisee, a visit to the historical St. Ignatius Mission Church and Flathead Lake with its many opportunities for boating, jet skiing, water skiing and fishing.

Hot Springs is located in northwestern Montana, east of Thompson Falls off Montana Highway 28.


Cities near Hot Springs Montana