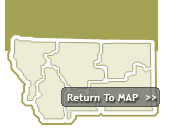 Libby lies in the northwest corner of Montana in a valley carved by the Kootenai River on the flank of the majestic Cabinet Mountain Range.

The original townsite of Libby was located several miles upstream from the confluence of Libby Creek and the Kootenai River, but was relocated to its present location in 1892 when the railroad built tracks along the Kootenai River joining Idaho with eastern Montana. The present town is located next to the Kootenai River and Highway 2, and is at about 2,100 feet elevation. Libby was named after the daughter of an early settler. Libby became the county seat for Lincoln County in 1909 and today about 12,000 people live within a 4 mile radius of Libby proper. The movies ""The River Wild"" and ""Always"" were filmed here.

The Libby area has many attractions for the visitor. The Heritage Museum, which has wonderful displays of local area history and wildlife exhibits. Golfers will enjoy playing a round at the Cabinet Mountain Country Club Golf Course. In July, don't miss Libby Logger Days, and September brings the Nordic Fest events to town. For those who enjoy outdoor activities, fishing the blue-ribbon Kootenai River or boating on Lake Koocanusa are always great pasttimes. The Kootenai National Forest offers over 2 million acres of forest for hiking, camping and backpacking, miles of streams and trails, and numerous lakes. Nearby attractions include Kootenai Falls, Ross Creek Giant Cedars, Libby Dam, 90-mile long Lake Koocanusa reservoir.

Special thanks to www.LibbyMT.com for their assistance and photo.

Libby lies in the Kootenai National Forest in the extreme northwestern corner of Montana, 120 miles from West Glacier and 89 miles from Kalispell.


Cities near Libby Montana