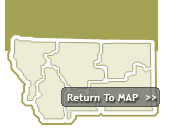 Thompson Falls lies nestled in a quiet valley along the beautiful Clark Fork River and offers a multitude of attractions for visitors and residents alike. The town was established in 1885 during the gold and silver mining era. With a population of about 1350, Thompson Falls is situated in northwest Montana along Highway 200 next to the Idaho border and approximately 100 miles from Missoula, Montana. The climate is very mild averaging 80 degrees in summer and 26 degrees in winter. The annual average precipitation of 22 inches keeps the valley beautiful and green.

Whether you're looking for a light lunch or some hearty home cooking, Thompson Falls has several great restaurants to choose from. If you plan to spend a few days here there are a variety of motels and RV parks. You will discover many fine stores featuring clothing, gifts, antiques, souvenirs, hand made quilts, Montana Made Products, art galleries, florists, foods, convenience items, hardware, and just about anything you may need while visiting our friendly town.
Annual events include the Flatiron Quilt Show in April, Heritage Days in May, the Rose & Perennial Garden Show in June, and the Sanders County Christmas Bazaar in December.
Thompson Falls has one of the prettiest golf courses anywhere. Just west of town located along the Clark Fork River, River's Bend Golf Course features 9 holes and a very nice clubhouse with a restaurant.
The Thompson Falls PP&L Dam located in town on the Clark Fork River is a popular attraction for visitors. The Thompson Falls reservoir and the Noxon Reservoir, below the dam, offers a variety of recreational opportunities including boating, fishing, swimming, water skiing and floating. There are several public boat launches near Thompson Falls, allowing convenient access to our many miles of navigable water.
The Thompson Falls area has outstanding access to millions of acres of national forest lands. These lands offer a wide range of recreational possibilities including hiking, mountain biking, fishing, camping, and hunting. Winter provides backcountry skiing and snowmobiling. Sightseeing adventures include trails in beautiful old growth timber, wild flowers, waterfalls, mountain lakes, creeks, rivers, and wildlife such as deer, elk, moose, big horn sheep, mountain goats, bears, and many varieties of birds. Be sure to bring your camera.
Visit the Historic Old Jail Museum in downtown Thompson Falls (open Mother's Day through Labor Day.) Take a relaxing stroll to PP&L Island Park for a picnic and a great view of the dam and the valley. Visit Wild Goose Landing Park, which provides public swimming and boating docks. Wildlife enthusiasts can view big horn sheep in their natural habitat just 6 miles east of town.

Thompson Falls is located in northwestern Montana, 100 miles northwest of Missoula on MT Highway 200.


Cities near Thompson Falls Montana