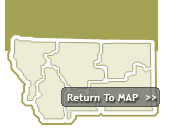 In 1869, the name Superior was given to a settlement at the mouth of Cedar Creek, after the founders hometown of Superior, Wisconsin. The post office was established in 1871 with Silas R. Smith as postmaster. Superior is the county seat of Mineral County and is located along the Clark Fork River and the route of the old Mullan Trail. Mineral County is the site of one of the largest gold strikes that helped settle the West.

In the 1860s and 70s, several thousand miners converged on Cedar Creek to earn their fortunes. Long after that strike played out, mining remained a mainstay of the economy. Mining, along with the development of logging and Forest Service activities contribute to the area's interesting history.

This small town offers a break from interstate travel and an introduction to area history in the Mineral County Museum. Display subjects explore local history and industry, including John Mullan and the Mullan Road.

Elevation: 2,744 feet

Superior is located in western Montana, 57 miles northwest of Missoula on I-90 or 10 miles from the Idaho border.


Cities near Superior Montana