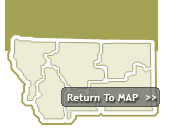 Attractions nearby Moiese include The National Bison Range which is administered by the U.S. Fish and Wildlife Service as part of the National Wildlife Refuge System. It was established in 1908 and is one of the oldest wildlife refuges in the nation. A large portion of the 18,500-acre range consists of native Palouse prairie. Forests, wetlands and streams are also found here, providing a wide range of habitats for wildlife. Elk, deer, pronghorn, black bears, coyotes, and ground squirrels are just some of the mammals that share the area with 350 to 500 bison. More than 200 species of birds also call this home and include eagles, hawks, meadowlarks, bluebirds, ducks, and geese.
Other nearby areas administered by the U.S. Fish and Wildlife Service include Ninepipe National Wildlife Refuge and Pablo National Wildlife Refuge. These areas contain irrigation reservoirs located on Confederated Salish and Kootenai Tribal lands. There are excellent opportunities to view waterfowl, bald eagles, herons, cormorants, and a wide variety of songbirds.

The entrance to the National Bison Range is located off Highway 212 at Moiese. Highway 212 can be accessed off US Highway 93 south of Kalispell/Polson at Ronan. Coming north on US Highway 93 out of Missoula, take MT Highway 200 at Ravalli to Highway 212. From the west, take MT Highway 135 out of St. Regis to MT Highway 200 to Highway 212, just past Dixon.


Cities near Moiese Montana