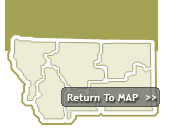 Kalispell; Hub of the Valley. Officially born in 1891, Kalispell developed on the site where founder Charles Conrad knew the railroad would establish the main line junction. Conrad opened the Kalispell Townsite Company, established a bank and began building a 26-room mansion. His east side home is just one of many historic homes and buildings created for one purpose and now used for another. From bed and breakfast inns to museums and art centers, Kalispell honors the past while building for the future.

The railroad depot welcomes visitors as the home of the Chamber of Commerce and the Flathead Convention & Visitor Bureau. Andrew Carnegie's spirit survives in the elegant former library, now the Hockaday Museum of Art. Kalispell's first school brings the past alive as the Central School Museum.

On Main Street, new construction blends with historic buildings now housing artists' studios, galleries, restaurants, hotel, offices, shops and boutiques.
The city has more than 20 parks. Some surround historic structures, including Depot Park, Courthouse Park and the Conrad Mansion grounds. Woodland Park, the city's largest, is a year-round family favorite. And where Conrad's buffalo herd once grazed, golfers play the challenging layout of Buffalo Hill Golf Course.
A perfect blend of old and new, Kalispell is ready to welcome every visitor..
Elevation: 2,955 feet


Kalispell is located northwestern Montana, near the head of Flathead Lake.


Cities near Kalispell Montana