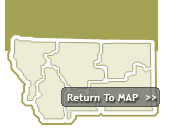 Kiowa comes from the Blackfeet word for bear, Kya-yo. This is a particularly appropriate name for this community with its varied wildlife and magnificent views. Both grizzly and black bears are frequently seen here. In the past several years, bears, mountain lions, lynxes, bobcats, wolves, elk, moose and deer have all been viewed at Kiowa. Kiowa is also a birder paradise. The area attracts birds favoring the mountains and plains, as well as numerous bird migrating through the region. A string of beaver ponds at Kiowa adds to the wilderness experience. Forest, wetland and alpine flowers abound in the area.
The vista from Kiowa is breathtaking as you look between the Two Medicine and Cut Bank drainage areas of Glacier National Park. From Kiowa you view the mountains creating the pass between these two areas, a popular hike for backpackers wanting a true wilderness experience. Just to the north of Kiowa is the traditional mountain pass used by the Blackfeet people to cross over the Continental Divide.
There has been a commercial enterprise at Kiowa since the early 1930s. Many local residents report riding on horseback to work or doing business at Kiowa. Visiting Kiowa today you can still get a taste of this old-time atmosphere as neighbors often arrive on horseback.
Kiowa, with its population of four and quiet atmosphere, is truly one of the hidden treasures of the Glacier area. Visitors to Kiowa have easy access to all parts of Glacier National Park while visiting a community with its own wildlife trails and interesting history.




Cities near Kiowa Montana