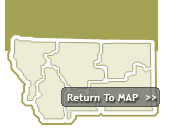 Dupuyer was named after Dupuyer Creek, which came from the French word 'depouilles' which was used by the trappers to describe the back fat of the buffalo. It was considered a delicacy by both the white men and the Indians. This town was a supply point for ranches and the freight route between Fort Benton and Fort Browning. The first post office was established in 1882 with Julian Byrd as postmaster.

The Two Medicine Fight Site historic marker is near the junction of U.S. Highway 89 and Montana Highway 44. This marks the only hostile encounter with Indians that Lewis and Clark had on their long journey.
Dupuyer is one of the oldest towns along the Rocky Mountain Front. Just west of town, the William Jones Memorial Park offers picnic and camping areas. Also west of town is Swift Dam with public campgrounds and picnic areas. Access to Boone and Crockett's Theodore Roosevelt Ranch is southwest of town. Horseback riding, backpacking, hiking, mountain biking, hunting, fishing and wildlife viewing are just some of the activities you can do with access to the Lewis and Clark National Forest, Bob Marshall Wilderness and Great Bear Wilderness.

Dupuyer is located in north-central Montana, situated between Browning and Choteau on U.S. Highway 89.


Cities near Dupuyer Montana