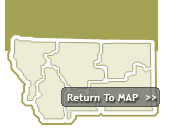 Augusta is the home of 'The Wildest One Day Show on Earth', the annual American Legion Rodeo. True western hospitality awaits visitors to Augusta, cuddled in the shadow of the Rocky Mountains close to where the Sun River flows from the mountains. The community is located on US Highway 287 about 53 miles west and slightly south of Great Falls along the eastern Rocky Mountain Front. Waving prairie grasses and scattered timber invited cattlemen to the area in the early settlement days of Montana and the Augusta area's history, heritage and livelihood remain rooted in the cattle business

Around 1862 cattlemen with large herds of cattle came to the area, controlling huge areas of land under a squatter's right and a law called 'customary range.' James Fisk headed the 'Fisk Expeditions' in 1866, which opened the first real transportation link between Montana and the upper Midwest. The South Fork of the Sun River earned the reputation of being one of the stock paradises of Montana. Cattle thrived on the native grasses, and at one time before the disastrous winter of 1886-87, it was thought there were more than a half-million head of cattle there. During the severe winter of 1886-87, most of the big cattle outfits lost 50 to 70 percent of their herds

Montana became a state in 1889 and the original Augusta townsite was surveyed and dedicated in 1893. The most accepted version in the naming of the town is after Augusta Hogan who was thought to be the first white child born in the town. In 1901 Augusta was a booming town when fire broke out, and in less than two hours the entire business section of the old townsite was burned. Gutsy residents took on rebuilding their town and by 1914, the town had reached a peak
Augusta is a gateway to the immense Bob Marshall Wilderness and adjoining Scapegoat Wilderness, covering a million acres, which offers hikers and backpackers access to the unspoiled, rugged beauty of the high country. Augusta sits on the northern edge of Gold West Country and is a friendly town in a scenic location. There are restaurants, motels, and a full array of visitor services. .

Augusta is located just north of Helena; at the junction of I-15 and US Highway 287 at Wolf Creek, go northwest approximately 40 miles.


Cities near Augusta Montana