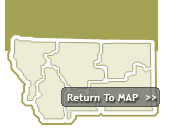 Wolf Creek's name was derived from the creek that flows by and the Indian phrase, "Creek - Where - the - Wolf - Jumped - Too (some translations say In)." Now a recreational center, including a general store, service stations, and tourist courts. Travel through majestic canyon walls from Helena to Wolf Creek.
Elevation: 2,634 feet


Wolf Creek is located in southwestern Montana, 30 miles north of Helena on I-15.


Cities near Wolf Creek Montana