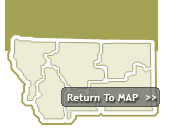 Ulm takes its name from the local rancher, William Ulm, whose ranch encompassed the present-day site of this community. With the Great Northern extending its rail service through the community. Ulm became a shipping point for the wheat farmers in the area.

Visit Ulm Pishkun State Park and Visitor Center to see what is believed to be one of the largest buffalo kill sites in the United States. Though not actually part of the Lewis and Clark route, Lewis described in great detail these buffalo kills, and Ulm Pishkun gives visitors a way to "see" what Lewis described in his journal. There are many public fishing access areas along Frontage Road, and it is a popular place for river floaters to start their floats.

Ulm is located in northcentral Montana, 10 miles southwest of Great Falls on I-15.


Cities near Ulm Montana