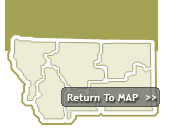 Monarch, Montana, is a small community located in the Little Belt Mountains of Central Montana. Monarch was founded in 1889 to service the lead/zinc/silver mines at Barker/Hughesville and at Neihart. A branch line of the Great Northern Railroad was built in 1890, making Monarch a commercial center for the region's mines. However, after the silver crash of 1893, the town's size and population declined. The three adjoining mines known as the 'King,' 'Czar,' and 'Emperor' may account for the town's name of Monarch.

This historic mining town is right in the heart of the Little Belt Mountains. Try out the local creeks for some excellent trout fishing, and take the 10-mile drive north of Monarch to Sluice Boxes State Park where hiking, biking, hunting and wildlife viewing are popular. Nearby Neihart also boasts excellent creek fishing and recreation opportunities. There are snowmobiling and ski rentals available at Kings Hill Pass. Be sure to visit Memorial Falls and take the nature trail which is handicapped accessible.

Monarch is growing to accommodate the increasing number of visitors that use the National Forest.



Monarch is located in central Montana, southeast of Great Falls on US Highway 87.


Cities near Monarch Montana