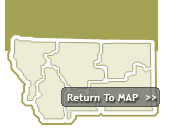 Geraldine is the center of a huge wheat-producing region. It was named after Geraldine Rockefeller, the wife of William Rockefeller, who was the director of the Milwaukee Railroad which ran through the town. The stagecoach stop was called Dew Drop Inn.
While in the small town of Geraldine, see the restored Geraldine Milwaukee Depot, which is listed on the Natural Register of Historic Places (737-4368), and visit Square Butte Natural Area (538-7461). Designated in 1973 for its scenic, recreational and wildlife values, this imposing rock butte is home to elk, deer, mountain goats and hawks..

Geraldine is located in north-central Montana, south of Fort Benton on Montana Highway 80.


Cities near Geraldine Montana