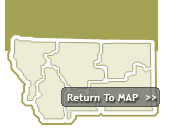 White Sulphur Springs Montana
White Sulphur Springs was named after the white deposits that were left by the hot water that bubbles up in the city's public park, (just off Highway 12). The water smells only faintly of sulphur. The water heats the town bank, and the flow has been tapped for the Hot Spring Motel.

The hot springs have been frequented by Indians for many years. Crow Chief Plenty Coups recalled pilgrimages by warriors to the medicinal mud baths. In 1886 James Brewer stumbled onto the area as the stagecoaches rumbled through the Carroll Trail. Brewer developed the hot springs for a stage stop.

White Sulphur Springs is located near the Smith River Canyon, a premier scenic and fishing river float at an elevation of 5,100 feet.

Visit the Castle, a prominent landmark on the hilltop overlooking the town. The gray stone chateau-style structure, furnished with antiques, was built in 1892 by Bryon Roger Sherman, and is now the home of the Meagher County Museum. The Victorian landmark is made of hand-cut granite blocks hauled by oxen from the nearby Castle Mountains. The museum is complete with period furniture, mineral samples, clothing and artifacts from the region's past.

For winter recreation, visit the Showdown Ski area, located 25 miles north of White Sulphur Springs in Neihart.

Relaxed and uncrowded, Showdown is a friendly, down-home ski area. Showdown offers 1,400 vertical feet of tree-lined trails and open slopes. The area receives an average snowfall of 25 feet and is served by a triple chair and double chair, poma lift and rope tow. The lifts accommodate 3,200 skiers per hour on the 34 slopes. Facilities on the mountain include a cafeteria, ski school, saloon, mountaintop deli, rental and pro shop.

White Sulphur Springs is located central Montana, 97 miles southeast of Great Falls on US Highway 89.


Cities near White Sulphur Springs Montana