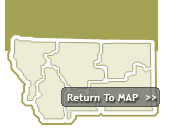 Today, Townsend is filled with recreational opportunities, filled with trees and parks. Lakes and the Missouri River surround the town, and the Big Belt Mountains shelter and protect. Townsend is in great hunting country.
Townsend was built in anticipation of the coming of the Northern Pacific Railroad. The town was named after the wife of Charles B. Wright, the president of Northern Pacific; her maiden name was Townsend. A $10,000 hotel was built. Land lots sold for $5 a piece.
Visit the Chamber of Commerce for information and maps for self-guided tours through historic mining and scenic areas in the nearby Elkhorn and Big Belt Mountains.
Elevation: 3,848 feet

Townsend is located in southwestern area of Montana, 32 miles southeast of Helena on US Highway 12.


Cities near Townsend Montana