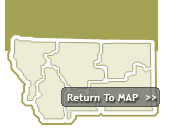 In 1864, John Bozeman led a wagon train over Bozeman Pass into the Gallatin Valley, where his friends W. J. Beall and D. E. Rouse staked out the town site for the city of Bozeman. Never a boomtown, Bozeman has had a slow, steady growth, beginning the day its first log cabin was erected in 1864. Many early settlers were ricochets from the gold fields of Bannack, Butte and Helena. These ex-miners would learn the more stable lifestyle of merchants and farmers. Today, Bozeman is one of Montana's major tourism and agriculture centers.
It's not easy to describe Bozeman to someone who's never been. It's one of the most diverse small towns in the Rocky Mountain West. Bozeman is blessed with an eclectic mix of ranchers, artists, professors, ski enthusiasts and entrepreneurs drawn hereby world class outdoor recreation, Montana State University and a slice of old fashioned Americana.
Established in 1893, Montana State University's campus houses The Museum of the Rockies where you'll travel through 4 billion years of Earth's history! The museum features a planetarium, paleontology, ethnology, and displays of dinosaurs and dinosaur eggs unearthed in Montana, Plains Indian artifacts, pioneer exhibits and Western art exhibits.
Downtown Bozeman has been an important and historic gateway to the West for more than 100 years. Downtown merchants outfitted explorers, miners, ranchers and the army with supplies to sustain them. Today, downtown features with rows of turn-of-the-century buildings. With more than 100 shops and restaurants lining this beautiful and historic retailing corridor, a stroll down Historic Main Street is a reminder of shopping in the grand old tradition.
Art and culture is alive and well in Bozeman. It is home to many museums, talented artists and excellent galleries. You can find opera, theatre, symphony and ballet, as well as rodeo, the Sweet Pea Festival, the Montana Winter Fair and the Gallatin County Fair. ..Those same features make Bozeman attractive to tourists, meeting planners, travel writers and tour operators. In addition to the numerous attractions in Bozeman, there are literally hundreds of sights within a short drive, including Yellowstone National Park, that lure visitors from around the world. .
Bozeman is surrounded by four mountain ranges, thousands of acres of the Gallatin National Forest and hundreds of miles of blue ribbon trout streams, so the recreation opportunities are virtually endless. Hiking, biking, fly fishing, and rafting. Bozeman is an important winter recreation area with two major ski areas nearby. Bridger Bowl is located 16 miles northeast of town and Big Sky Ski and Summer Resort is 45 miles south. ..Consider making Bozeman the base for you trip and stay awhile to get to know the people and the hospitality that make Bozeman, Montana one of the nation's best!..

Bozeman is located in southwestern Montana, in the shadow of the Bridger Mountain Range and 90 miles north of the entrance to Yellowstone National Park.


Cities near Bozeman Montana