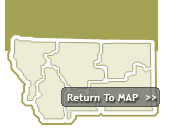 Originally called 'Dornix', Big Timber was named by a railroad official in St. Paul who read William Clark's Journals. Clark was referring to the large cottonwood trees near the area called 'Rivers Across' in July 1806. The area became a large sheep ranching area, at one time shipping more wool than any other city in the US. It is now a successful agricultural area, with strong community bonds. The beautiful Crazy Mountains provide a perfect backdrop for all types of out door recreation, photography and scenic drives.

Big Timber is the gateway to the Absaroka-Beartooth Wilderness and has some of the best blue-ribbon trout fishing in the state. Big Timber and the surrounding communities of Melville, McLeod and Greycliff, offer shopping, schools, medical facilities, building supplies, churches and peace and quiet. We are bordered on the north and east by prairie, and on the west and south by mountains. Granite Peak, located in the Absaroka Mountain Range, is the highest mountain in Montana at 12, 799 feet. Activities and guided services for this area include ranch vacations, hiking, river floats, hunting, fishing, golf and the historical Big Timber rodeo.
Area attractions include the Crazy Mountain Museum. On exhibit is the Cobblestone City, a detailed miniature of Big Timber in 1907. The permanent rodeo display features the Cremer Rodeo of the 1930s. Part of the museum complex is a Norwegian Stabbur, or stone house, with artifacts from Big Timber's Norwegian heritage, and a one-room school house, complete with 'real' black boards and chalk, shared desks and pictures of the presidents.
.

Big Timber is located west of Billings in southcentral Montana.


Cities near Big Timber Montana