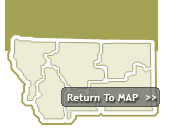 Founded in 1882 by the Northern Pacific railroad, Livingston remains the original entrance to Yellowstone National Park. Vehicles enjoy travel through Yellowstone to Cooke City year around. Visitors drive to Roosevelt Lodge and into the Lamar Valley to watch wildlife and listen to wolves.

Livingston hosts a prolific film, writer and artist colony; two live community theatres with shows year around; western eclectic shopping in 100+ year old antique shops and boutiques; a historical walking tour through blocks of period buildings. Important area industries are tourism, agricultural, lumbering, railroading, fishing and hunting.
Three museums dominate Livingston. The 1902 Northern Pacific Depot Museum features railroad memorabilia with a different traveling showcase each year. The International Fly Fishing Federation Museum in the Lincoln School is the only one of its kind in the world. The Yellowstone Gateway Museum, where the visitor can trace their Montana heritage also showcases Yellowstone Park and a valuable archeological collection of early man.
Surrounded by the Rockies, the Crazies and the Absaroka Mountain ranges Livingston sits at 4,487 feet bordered by the Yellowstone River, the longest free flowing river in the U.S.
Livingston serves a convention location the entire year. Guests go to the rodeo, hunt, fish, golf, watch birds, bike, ski, horseback ride, snowmobile, view ghost towns look for gold, go hot potting and of course, watch other travelers from a comfortable lobby.
Livingston is located in the heart of Yellowstone Country at exit 333 and Interstate 90 and Highway 89, Park County, Montana.

Livingston is at the head of the picturesque Paradise Valley leading to Yellowstone National Park. It is 26 miles east of Bozeman.


Cities near Livingston Montana