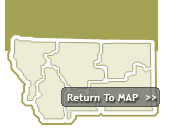 Cooke City is an alpine village with snow much of the year. It is perhaps most famous for the road that connects Cooke City with Red Lodge. Called "the most scenic drive in America" by Charles Kuralt, the Beartooth Pass on U.S. Highway 212 has dramatic switchbacks traversing the spectacular Beartooth Range of south-central Montana. The Beartooth Pass is open only in summer months (approximately June-October); however, the town is accessible year-round by way of the Mammoth Hot Springs entrance at Yellowstone Park (U.S. Highway 89).

Established in the early 1880s, the town still has a rustic Old West atmosphere, which can be traced to its mining roots. Today, surrounded by national forest, wilderness and Yellowstone National Park, the area is an outdoor recreationist's dream. Impressive high mountain peaks and valleys abound.
.

Cooke City is located in south-central Montana, on U.S. Highway 212.


Cities near Cooke City Montana