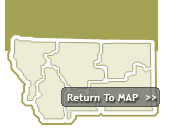 Named for the sandstone bluffs nearby, Greycliff was established in 1882. Once a thriving railroad stop, it is now a close knit community which supports an excellent two-room school attended by the children of the surrounding ranches. The Yellowstone River is accessed at Greycliff.

Visit the Greycliff Prairie Dog Town State Monument and watch the blacktailed prairie dog community. Interpretive displays help to tell the story of these small entertaining prairie dogs. You can get out, walk through the town, and take pictures. Or enjoy a picnic lunch while you view these lively, burrowing creatures from a distance. While in Greycliff, be sure to visit the Prairie Dog Mall.

Enjoy fishing, camping and boating along Yellowstone River. There are public accesses along the river where campers can stay free for up to 10 days. Pelican Fishing Access is located one mile northeast of Greycliff on County Road..

Greycliff is located in south-central Montana, 10 miles east of Big Timber on I-90.


Cities near Greycliff Montana