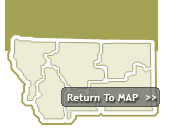 In 1882 Tomas B. Quaw, an entrepreneur, located land along the newly surveyed Northern Pacific Railway about ten miles from Bozeman. He found this property greatly to his liking, and thus, the community had it's beginning. At that time, many European financiers invested money to complete the Northern Pacific Line. As a complimentary notice of appreciation to the Serbian investors this town was named Belgrade after the capital of Serbia.
.From the turn of the century through the 1930's, Belgrade continued to expand, gaining businesses, professionals and the trappings of an established community. However, speculation in Belgrade slowed, the depression took its toll, and Belgrade settled into the quiet farming community it was to remain for some time.
Today, Belgrade has established itself as an independent community with excellent services and the unbeatable experience of a small town. Located in the center of the Gallatin Valley, Belgrade is just minutes away from many of Montana's major attractions including Bridger Bowl, Yellowstone National Park, and many, many more!

Belgrade is located in southcentral Montana, just northwest of Bozeman on I-90.


Cities near Belgrade Montana