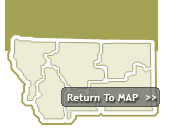 Harrison was named for Henry C. Harrison, who settled at Willow Creek in 1865. The family was known for their large steam dairy, shorthorn cattle and Morgan horses..
Harrison is a ranch town with a single street and a few houses. The first post office was established in 1870 with H. S. Paul as postmaster. By 1905, the post office had opened and closed three times. It reopened again in 1905 with Frank Warburton as postmaster.

Harrison is located in southwestern Montana, between Butte and Three Forks off I-90.


Cities near Harrison Montana