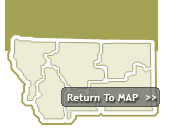 Alder was once a railroad terminal for the assembly of the great dredges, large complicated steamships equipped with scooping or suction devices which traveled upriver while scooping dirt and gravel from the river bottom. These dredges facilitated the placer mining, which took place in Alder Gulch between 1897 and 1922. In the early 1900s the Northern Pacific Railroad built a rail line from Whitehall to Alder to transport the parts needed to construct the dredges.

About five miles north of the town is Robber's Roost, an old stage stop. It is open to the public and features an antique store and museum. Hold-up gangs used to hang out here during the early gold rush days when stagecoaches made regular runs between Bannack and Virginia City.

Alder Gulch was one of the greatest gold producers of all time. The site of the largest placer gold strike in world history was discovered in May 1863 by prospectors returning to Bannack after they were waylaid by Indians. Alder Gulch produced 100 million dollars worth of gold by 1920. A year later the ""boom town"" of Virginia City had a population of 10,000. People lived in makeshift tents and shacks, with ""every third"" construction a saloon. The gulch was named Fairweather Mining District in 1863. Exactly one year after gold was discovered, Montana was made a territory.

Today, Alder has a gem mine open to the public. Folks can go just south of town to search for garnets and other stones. .

Alder is located west of Virginia City, in southwestern Montana, on US Highway 287.


Cities near Alder Montana