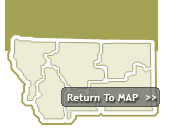 Wise River is surrounded by a half-million acres of peaks, lakes and headwaters in the Pioneer Mountains and offers some of Montana's most breathtaking scenery. .

.The Pioneer Mountains Scenic Byway offers 40 miles of backcountry driving that bisect the Pioneer Mountains between Montana Highway 43 and Highway 278. Enjoy camping, hiking, fishing, the ghost town of Coolidge, remnants of the Elkhorn Mill and a narrow-gauge railroad that served the mill.

Crystal Park features public diggings for smokey, amethyst and clear quartz crystals. Snowmobiling is popular in this area.

Wise River is located in southwestern Montana, southwest of Butte on MT Highway 42.


Cities near Wise River Montana