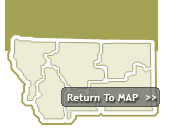 Pony was named for a gold miner in the 1860's named Tecumseth Smith. He was nicknamed Pony for his short stature and his skill in horse trading

Pony was developed as a prospector's camp when quartz gold was discovered in 1875. Pony boasted a bank, a hotel, doctor's offices, chinese laundries, a baseball team and twelve saloons. At the height of its boom in the early 1900s, the towns' population was more than a 1,000.
Today there are only about 100 year-round residents. The abandoned buildings and Victorian homes as reminders of when Pony was a leading mining community..


Pony is located in south western area of Montana, on US Highway 287 south of Three Forks.


Cities near Pony Montana