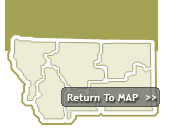 West Yellowstone is known as the trout fishing and snowmobiling capital of the world. The town of West Yellowstone is best known as the western entrance to Yellowstone National Park. The natural scenic wonders of the nation's oldest national park include geysers, brilliant hot pools, bubbling mud cauldrons, rugged mountain peaks, majestic waterfalls, streams and beautiful lakes. Anglers come from all over the world to test their skills in the blue-ribbon trout streams surrounding the area. The town sits on a high plateau and receives an extraordinary amount of snow in winter. The town takes advantage of this by grooming hundreds of miles of snowmobile and cross-country ski trails and hosting races in both sports. Many companies in West Yellowstone offer snowmobile and ski rentals. In summer, the area also offers extraordinary locations with Hebgen and Quake lakes and the picturesque Madison River. The town's convention center can accommodate up to 1,000 for meetings and banquets.
Visit Montana's first IMAX Theatre, presenting a six-story high screen with stereo surround sound. The film Yellowstone interprets the history, wildlife, geothermal activity and grandeur of our first national park. The Grizzly & Wolf Discovery Center offers an educational experience and viewing area for visitors to watch live grizzles and wolves in their own natural habitat.
Visit the Museum of the Yellowstone located at the historic Union Pacific Depot, built between 1907 and 1909. Collections in the museum include rare, vintage portrait photographs of great Indian chiefs; rare artifacts, such as clothing and weapons; authentic sabers, handguns and rifles used by the U. S. Cavalry; mountain men essentials like beaver traps and the Hawkin rifle; wildlife dioramas and special exhibits on 'Trains and Yellowstone,' 'Bears of Yellowstone' and 'Yellowstone Fires.' Adventure documentary films of the Old West, Yellowstone Park (including the fires of 1988), and wildlife and Native American history are shown in the theater. The museum bookstore contains over 5,000 books and a large selection of videos on natural history, Western Americana, and Native American history.
The West Yellowstone Chamber of Commerce, a statewide travel information center offers extensive information on the area.
Elevation: 6,667 feet

West Yellowstone is located in southwestern Montana, at the West Entrance of Yellowstone National Park at junction of US Highways 20 and 287.


Cities near West Yellowstone Montana