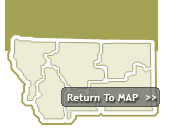 The tiny community of Loma has two interesting museums. Visit the Earth Science Museum for a look at gems, minerals, fossils and Indian artifacts. The House of a Thousand Dolls displays dolls and toys from 1830 to the present.

Cross the Missouri River by ferry upriver at Carter or down-river at Virgelle; both ferries operate from March through October. Just one mile south of Loma, in June 1805, is where the Lewis and Clark Expedition spent nine days at the Marias River. The "Decision Point" marker on the Lewis and Clark National Historic Trail (538-7461) is where they
determined whether or not the Marias was a main stem of the Missouri. They concluded that it was not. Visit the Historic Decision Point Overlook and Woods Watchable Wildlife Area (265-5891).


Loma is located in northeast area of Montana, northeast of Fort Benton on Highway 387.


Cities near Loma Montana