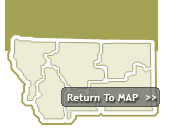 Utica and nearby Stanford have several museums of interest. The Judith Basin Museum (566-2281) and the Utica Museum (423-5208) are two to be sure and visit while there. Also see the Prairie Past Museum for an interesting collection of old agricultural machinery. The White Wolf (a giant stuffed white wolf) can be viewed at the Basin Trading Post. Recreation opportunities abound in the nearby Lewis and Clark National Forest (566-2292), Judith River Wildlife Management Area and Ackley Lake State Park. .

.The Judith River Wildlife Management Area, at the edge of the Little Belt Mountains, is a good place to view large elk herds in late fall and winter.

Stanford is located in central Montana, west of Lewistown on Highway 239.


Cities near Utica Montana