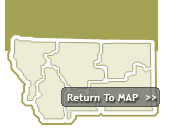 Located about 22 miles northwest of Great Falls on Interstate 15, the homestead community of Power now serves a thriving rural area of farmers, ranchers, businesses and commuters from Great Falls.

T.C. Power homesteaded the area in the early 1900s on 160 acres in Teton County. As more homesteaders arrived, he saw a need for a store and a post office. He donated a plot of ground from his homestead, which he wished to name Power. The railroad had built a reservoir dam, a section house, a bunk house and a water tank, pumping station and water treatment plant. Railroad cars were readily available for shipping wool so sheepmen drove their bands of sheep there for shearing. The town of Power became a legal entity on March 28, 1910.

One of the earliest landmarks in the Power vicinity is an old stone and frame two-story house located on Muddy Creek, 4 miles south of Power. It was built by a man named Steell and is reported to have been there in the year 1887. A stage ran from Steell to Choteau carrying mail and passengers.

Power is located in north central area of Montana, north of Great Falls on I-15.


All Power Businesses

Church (1)

Cities near Power Montana