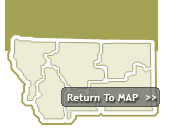 The development of the railroad in Montana gave birth to many of the small towns in the state, including Dutton, located just off Interstate 15 about 34 miles north of Great Falls. Railroad crews building the track across the Montana prairies paused every few miles to build a siding and a one-room station. The siding was often the site of a future town, as was the case with Dutton, which was named for a little-known railroad freight and passenger agent.

The first permanent settlers in the Dutton area located along the river and came in the late 1880s. The Homestead Act was passed by the federal government in 1862. Thousands of homesteaders flocked to Montana in those days, coming in boxcars with all their worldly possessions on the newly established Great Northern Railway. The people who settled in Dutton came to serve the homesteaders who were living in the area. The town incorporated in 1935.

Dutton remains firmly grounded as an agricultural community surrounded by some of the best wheat-growing ground in the state.

Dutton is located in north-central Montana, north of Great Falls on I-15.


All Dutton Businesses

Church (2)

Cities near Dutton Montana