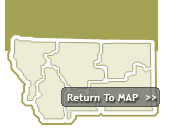 Ovando was named after the first postmaster, Ovando Hoyt; opening the first post office in 1883. Ovando served as a supply point for hay and sheep ranches and small logging camps.

Mountain meadows ablaze with wildflowers with the mountain peaks of the Bob Marshall Wilderness and Scapegoat Wilderness as a backdrop greet the visitor to Ovando. A number of guides and outfitters in the area will take you into the wildlands, or several guest ranches offer accommodations.

Fishing and windsurfing are excellent reasons to visit Browns Lake, near Ovando. It is also great for the birdwatcher. See eagles, loons, herons and pelicans, just to name a few.

Elevation: 4,100 feet

Ovando is located in southwestern area of Montana, northeast from Missoula on Highway 200.


Cities near Ovando Montana