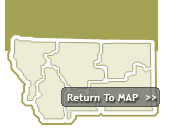 The town of St. Mary is between Upper St. Mary Lake, which is located in the Park and Lower St. Mary Lake, which is situated in Glacier County. Going-to-the-Sun Road, which is also listed in the National Register of Historic Places, links St. Mary on the eastern side of Glacier with the park's western entrance at West Glacier.

The first post office was established in 1898 with John J. Judd as postmaster. It closed in 1915.

St. Mary's Lodge & Resort has been hailed by the NY Times as the park's most complete guest facility. First-class accommodations complemented by an internationally famous restaurant, gift shops, a supermarket and a full array of guest services. Dedicated to providing lodging, goods and services with comfort and style for over 60 years, St. Mary Lodge and Resort is the ultimate headquarters for your visit to Glacier. Accommodations include lodge and motel rooms, cabins, and our new luxury cottages with stunning views of the park and St. Mary Lake.
There are campgrounds located centrally on Glacier Park's east side that provide a perfect setting for a base camp while you visit Glacier National Park, Waterton International Peace Park, Many Glacier and Going-to-the-Sun Highway....

Saint Mary is located in northwestern area of Montana, situated at the West Entrance of Glacier National Park.


Cities near St. Mary Montana