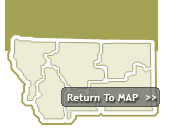 Cut Bank nestled within view of where Montana's rolling wheat fields and plains meet the majesty of the Rocky Mountains. The first visitors to the Cut Bank area arrived 200 years ago. We know the Lewis and Clark expedition found the area exciting; we think you will too.

The cultural diversity and richness that makes the Cut Bank area a special place to both live and visit is highlighted by the proximity of the Blackfeet Indian Reservation. The Blackfeet Tribe is arguably one of America's most culturally intact native populations. The area is also home to five active Hutterite colonies. Steeped in centuries-old Germanic tradition, a visit to any one of these colonies is a step back in time to a simpler, less complicated lifestyle.
The area around Cut Bank is rich with opportunities for those seeking true western adventure. Within a pleasant hour's drive from downtown Cut Bank are more than a dozen different operations offering the enthusiasts their choice of horseback pack trips, fishing/hunting trips, rustic lodges and guest ranches, or any combination of recreational opportunities. Most offer weekly packages at a range of prices to fit almost any budget.
With Glacier National Park as our backdrop, it's no exaggeration when we say Cut Bank is in the center of the absolute best in outdoor recreation. World-class fishing, trophy big game hunting, abundant pheasant and upland bird hunting, hiking, mountain biking, snowmobiling, cross country skiing, snow shoeing, camping and much more are at your fingertips. With the grandeur and beauty of some of the most pristine outdoor areas in the country within sight, the areas surrounding Cut Bank offer you a truly unforgettable experience. ..

Cut Bank is located in northwestern Montana, just east of Glacier National Park and 24 miles west of Shelby.


Cities near Cut Bank Montana