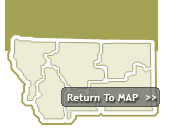 Bigfork has been distinctly honored with designations in the following.publications: The 50 Great Towns in the West, 100 Best Small Art Towns, The Great Towns of America, and National Geographic Guide to Small Towns Escapes.

Bigfork was founded in 1901, about the time the hydroelectric plant at the mouth of the Swan River was built to supply electricity for Kalispell. The electric company is still here where water from the river is diverted to a higher level, then dropped through turbines to generate power. It is an exceptionally lovely, upscale, year-round resort village that is brimming with art galleries, fine restaurants, golf, high-end boutiques, and live theater.

Bigfork is located on the Flathead Lake in the center of an outdoor enthusiast's paradise with plenty fishing, boating and hiking opportunities to enjoy. Located in the community is the impressive and challenging Eagle Bend Golf Course.
The Bigfork Summer Playhouse is considered one of the Northwest's finest repertory theaters. It is located in a modern, airconditioned theater structure seating 450 people. The fast-paced, light singing, dancing and acting provide great family entertainment. The Broadway musicals which are presented Monday through Saturday feature some of the most outstanding young talent in the country. Past performances include Fiddler on the Roof, My fair Lady, Sound of Music, Annie Get Your Gun and the Music Man.
Bigfork is the gateway to the 91-mile Seeley-Swan Highway, MT 83. 'The Swan' runs between two majestic mountain ranges, past pristine lakes and heavily wooded slopes.
Tourism and cherry orchards now support the local economy.


Bigfork is located in northwestern Montana (Glacier Country). It is situated at the northeastern tip of Flathead Lake at the junctions of MT Highways 83 and 35.


Cities near Bigfork Montana