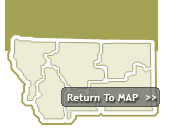 Charlo was first named Big Flat, then Charlotte, and later Charlo, in honor of Chief Charlo of the Flatheads. He was one of the few chiefs who refused to sign Special Commissioner James A. Garfield's order on August 27, 1872, removing all Indians of the region to the Jocko reservation. In a diary of a Stevensville High School student, Johnny Chilcott's grandfather quoted: "The Indians all left this morning, poor souls, it was sad to see them. They took their horses, packed some wagons, took their cattle and all their belongings." The war blanket of Chief Charlo was given to Johnny's grandfather, Lee Bass. Chief Charlo refused for many years to leave this beloved valley of the Bitterroot and pleaded with the government agencies to let him stay. Finally he had to go and was defeated in peace. The Charlo post office was established in 1918 with Pontus Haegg as postmaster.
The National Bison Range is located just seven miles southwest of Charlo on Highway 212. The range protects one of the most important remaining herds of American bison. About 300 to 500 of these great shaggy animals roam nearly 19,000 acres of grassland and timber. The range is also home to whitetail and mule deer, elk, bighorn sheep, pronghorns, and at least 200 species of birds. A visitors' center, auto tour, and picnic area are available.

Charlo is located in northwestern Montana, between Polson and St. Ignatius on Highway 212.


Cities near Charlo Montana