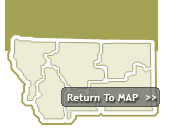 Glacier National Park Montana
Glacier National Park was established in 1910. It is a land of mountain ranges carved by prehistoric ice rivers. It features alpine meadows, deep forests, waterfalls, about 50 glistening glaciers and 200 sparkling lakes. The vistas seen from Going-To-The-Sun Road are breathtaking, a photographers paradise. Relatively few miles of road exist in the park's 1,600 square miles of picturesque landscape, thus preserving its primitive and unspoiled beauty enlivened by a spring and summer profusion of wildflowers.
Set in a rugged section of the northern Rockies, Glacier National Park joins Waterton Lakes National Park in Alberta, Canada. Together they create Waterton-Glacier International Peace Park World Heritage Site - an ideal 'two nation vacation.' Going-to-the-Sun Road, a spectacular 52-mile highway through Glacier, crosses the Continental Divide at Logan Pass and traverses the towering Garden Wall. Maximum vehicle dimensions over Logan Pass are 20 feet long (including bumpers) and 8 feet wide (including mirrors). Oversize vehicles may be parked at various points. Rental cars are available at nearby towns; a shuttle service may be available, call the park for details.
Logan Pass normally opens mid-June and closes mid-October. Glacier has more than 700 miles of foot and horse trails. Approximately 1,200 campsites are available to car campers on a first-come, first-serve basis; backcountry permits are available. Park accommodations feature historic hotels and lodges. Facilities are open seasonally; the park and portions of Going-to-the-Sun Road are open year-round. For room reservations, call 602-207-6000. For shelter reservations at Granite Park Chalet (cook your own meals), call 387-5654. In addition to driving or hiking on your own, choose from several tour options. For historic jammer bus tours, call 226-9311 (summer); for boat tours, call 732-4480 or 403-859-2362 (Waterton Lake only); for guided backpacking and hiking trips, call 800-521-7238 or 387-555, and for American Indian interpretive tours, call 226-9220 (summer).




Cities near Glacier National Park Montana
Glacier National Park Montana
Glacier National Park Montana Weather