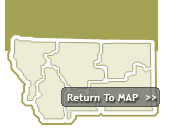 Wibaux was named after a Huguenot, Pierre Wibaux. Wibaux became one of the largest cattlemen in the state. He made a fortune in the winter of 1890 by buying the cattle that stockmen were forced to sell at bargain prices. Wibaux's own cattle were wiped out in the winter of 1886-1887, however, he received more financial backing from French investors and rebuilt his herd to 75,000 head. Teddy Roosevelt was among his friends in this era The future President of the Untied States was a badlands rancher at this time. Theodore Roosevelt National Park and the town of Medora, North Dakota, just 30 miles from Wibaux, stand today as reminders of the roles these gentlemen played in history.

Put Wibaux at the top of your travel itinerary when you travel to Montana from the east on Interstate 94. This 'Gateway to Montana' community has a state visitor center with all the information you will need to complete your plans for a wonderful vacation in Montana. As a bonus you will find Wibaux (pronounced wee-bo) to be a friendly, western town with a colorful history and a charming commercial historic district — a great place to set the tone for the rest of your trip.
The Visitor Information Center provides for an introduction to the area and its history. Maps, travel brochures, photographs, video tapes and a friendly staff answer your questions about what there is to do and see all across Montana.
The Pierre Wibaux House Museum provides visitors with farm and household exhibits of early settlers and Indian artifacts. The museum also includes an old-fashioned barbershop, livery stable, a railroad caboose, and old-fashioned gardens.
The Centennial Car Museum, a railroad car, which was on display at the World's Fair in New York City in 1964, houses a number of artifacts and unusual displays.
Another distinctive building is the Saint Peter's Catholic Church with its stained glass and lava rock exterior, built in 1885.
It looks like just a small stream, but Beaver Creek, which flows through Wibaux, has produced some big fish, including walleye and northern pike in excess of 10 pounds. Catfish and bullheads also can be caught in the creek, while panfish and trout are found in many area farm ponds. A public pond with picnic area is located on the edge of the city limits on MT Highway 7 south.
A blend of badlands and rolling hills offers fine photography or hunting trophies in mule deer, whitetail deer and antelope. Upland game birds also are plentiful in some parts of the country. Deer, wild turkeys, beavers and a wide variety of songbirds are frequently spotted — sometimes right in town!..Wibaux doesn't have any snow in July and Beaver Creek is too narrow for water skiing. But the community is still planning its annual eastern Montana 'Ski Festival.' The slightly offbeat festivities celebrate the large number of Polish settlers in the area whose names end in 'ski' as well as the 'Nor skis,' Germans and other ethnic groups who developed Wibaux County. In addition to a parade, polka music and a Polish barbecue, the festival includes games such as mechanical surfing. Youngsters enjoy an inflatable giant pillow jump. A ranch rodeo with events mirroring work actually done on area ranches is held during the 'Ski Festival.' Visitors are welcome to join the fun...Elevation: 2,634 feet

Wibaux is located in eastern Montana, 8 miles from the North Dakota border.


Cities near Wibaux Montana