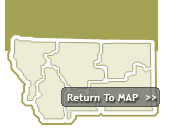 Baker's early years first boomed when the Milwaukee Railroad came across Montana in the 1900s. It received its name from A. G. Baker, the construction engineer for the main railroad line. In 1915, a driller, seeking water, discovered natural gas. Many wells in the vicinity later produced oil in abundant quantities. Most of the downtown area was built during this time, and in the 1960s and 1970s, oil and gas exploration was plentiful.

No matter which direction you look in Baker, you will see stretches of scenery painted with golden fields and sandstone, arched horizon to horizon with the big, beautiful, blue sky. Drive 25 miles south of Baker to see Medicine Rocks State Park. You'll understand why dinosaur bones have been found near Baker when you see the honey-combed sandstone rock formations, carved by time, water, and wind. The Montana Fish Wildlife and Park campground at the park is open year round and offers camping for trailers up to 20 feet.

Let your mind wander; you can imagine how the Indians lived, or what hardships the first explorers, trappers, and settlers must have faced. O'Fallon Historical Museum in Baker will fill in the details that your imagination may have left out. The story of fashion is exhibited on mannequins wearing clothes and accessories of the past. The full-size taxidermy mount of the 3,980-pound Steer Montana dwarfs visitors who come to view him. Volunteers will give you directions to one of the many tipi rings in the area, or point out to you the wagon ruts left by some of the original wagon trains that came through Montana.

Baker offers a variety of year round activities including: fishing at Baker Lake; hunting for deer, antelope, pheasants, wild turkeys and rabbits; snowmobiling and cross-country skiing..

Baker is located in southeastern Montana (Custer Country) only 12 miles from the North Dakota border and 81 miles east of Miles City. . Turn south from Wibaux on MT Highway 7. If you are coming in from the east, travel on US Highway 12.


Cities near Baker Montana