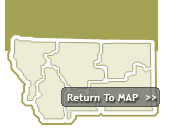 Ekalaka is a small western town nestled in the Russell Creek Valley of picturesque Carter County. Ekalaka is named in honor of Ijkalaka, daughter of Eagle Man, an Ogalala Sioux and the wife of David H. Russell, the first white settler in the valley.

Ekalaka is the county seat of Carter County, population 450. Though small, the community meets the needs of the traveler with two motels, a campground with hook-ups, several restaurants, a grocery store, service station, and a collection of main street businesses and two city parks.
Noted for its wide-open spaces, beautiful blue skies, and tranquil scenery of open prairies spreading upward to stately forests, Ekalaka's setting is a living painting. There's lots of room, lots of time, lots of space, and leisurely meals among friendly people. Entertainment comes in measures of peace and quiet.
Ekalaka is the home to one of the most significant local museums in Montana, Carter County Museum featuring many fossils, artifacts and prehistoric specimens, including the nearly complete skeleton of a duck-billed dinosaur.
.Nearby Medicine Rocks State Park was once a place of 'big medicine,' where Indian hunting parties conjured up magical spirits. Wind and water have sculptured soft sandstone into unusual forms. .
Chalk Buttes, Long Pines, and Ekalaka Hills near Ekalaka are Custer National Forest lands that provide excellent hunting for mule deer, whitetail deer, and wild turkeys. Long Pines is noted for the Capitol Rock National Natural Landmark. This area is known for having a very high density of nesting raptors.

Ekalaka is located in southeastern Montana, 35 miles south of Baker on Montana Highway 7.


Cities near Ekalaka Montana