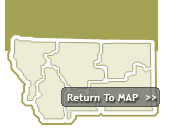 Powderville was originally known as Elkhorn Crossing of the old Deadwood Stage. Still visible is the route the wagons took in fording the river here.

A point of interest maintained by the Powder River County Historical Society is Boot Hill Cemetery, west of the present Powderville Post Office, which was established in 1872.

Powderville takes its name from the river it is located next to, the Powder River in the southeastern area of the state. The town's origins are found as a stagecoach station between Miles City and Deadwood, South Dakota.

Powderville is located in southeastern Montana, north east of Broadus.


Cities near Powderville Montana