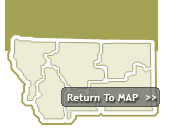 Broadus the 'Gateway and Crossroads' of southeastern Montana, is located just west of the famous Powder River, which was heard of worldwide from the American soldiers' yell of Powder River, Let 'er Buck.' The Powder River has been described as 'mile wide and an inch deep, too wet to plow and too thick to drink.'
Named after the Broaddus family, settlers on the Powder River, one of the d's was dropped by the postal service in Washington D.C. when the post office was established in February 1900. Broadus was a cowboy town, until oil was discovered. Broadus High School is the only one in the county. The nearest railroad is 87 miles away. Broadus is known today for three things: cattle, oil, and its outstanding school system.
The Powder River Taxidermy Wildlife Museum features wildlife mounts, antique and commemorative guns and local art.
Visitors can stop by the Powder River Museum to admire the general store, the original county jail, E. B. Ranch chuckwagon, antique cars and pioneer photos.
Mac's Museum features Indian artifacts, plus minerals and more than 200,000 seashells.
You'll be able to say ' I did it all!' when you join the Powder River Wagon Train and Cattle Drive. You will have a horse of your own to ride and care for, or you can join the train by claiming a seat on a wagon. You can stand beside seasoned cowboys and cowgirls and lend a hand pitching camp bedding down the herd for the night, and getting the wagons rolling in the morning. You'll learn to trail cattle on a real-life cattle drive experience. You'll work up an appetite for cowboy coffee, eggs and hotcakes at the chuck wagon. And nothing beats the thick steaks, baked beans and hot biscuits served up in the wide open spaces. Evening campfires are for singing, spinning yarns, and making friends.
Elevation: 3,029

Broadus is located in southeastern corner of Montana, near the junction of the Powder and Little Powder Rivers, 79 miles south of Miles City on MT Highway 59.


Cities near Broadus Montana