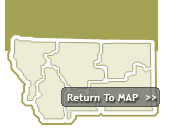 Small towns on the prairie have long been one of Montana's greatest crops. Plevna is a perfect example to visit. It has one cafe/bar, one coffee and sandwich shop, a post office, and a shaded park with tables and playground equipment. An active senior citizen's center welcomes guests and the Fire Hall is the location of an annual October sausage supper, which welcomes people from miles around.

Dead Man's Butte, five miles north of Plevna, marks the spot where a stage line driver known as Fritz lost his life. The stage line connected Fort Lincoln, near Bismarck, North Dakota, with Fort Keogh near Miles City.

Plevna was originally settled by rail workers of Bulgarian heritage. They chose to name the community after Plevna, Bulgaria, the site of a renowned battle between Russians and Turks. Later, German immigrants settled the area. Both groups of immigrants influenced the character of the community with their traditions from the Old World.

Plevna is located in eastern Montana, east of Baker on US Highway 12.


Cities near Plevna Montana