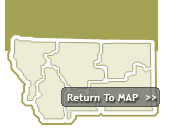 Richey lies in the center of a productive area. This is cattle and sheep country, with wheat, oats and barley being the main farm crops. A lively little friendly town, Richey has a variety of businesses to serve the visitor.

The town was incorporated in 1949 and named after the first postmaster, Clyde C. Richey. The Richey Historical Museum features more than 5,000 articles of historic interest, including a Model A mail car, a blacksmith shop, a pioneer kitchen, school and church memorabilia, newspaper files and period clothing. There are washboards and wheelchairs, spinning wheels and musical instruments, and books containing pictures and stories of local pioneers, veterans and churches.

Richey is the host of the annual Richey Rodeo, which takes place on the third Sunday in July. It also hosts a vintage Car Run every year on the first Saturday in June.

Richey is located in southeastern Montana, west of Sidney on MT Highway 200.


Cities near Richey Montana