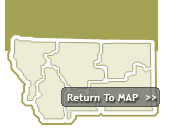 On May 3, 1805, Lewis and Clark camped near here on the Poplar River about 3.5 miles upstream from where it empties into the Missouri. They named the stream the Porcupine River after porcupine that were found in abundance in the area. The name was later changed to Poplar because of the wide-spread stands of poplar trees on the banks.

Poplar is located on the Fort Peck Indian Reservation, and offers plenty of Indian culture. The reservation is home to the Assiniboine and Sioux tribes. The Poplar Museum and Tribal Museum feature tribal history and artifacts. There are many tribal celebrations throughout the year, including the Iron Ring Celebration and 'Wadopanan-Last of the True Powwows.'

Poplar is located in northeastern area of Montana, east of Wolf Point on US Highway 2.


Cities near Poplar Montana