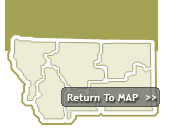 Plentywood served as a trading post for the people living in the northeastern corner of the state. These people have experienced the cycle of prosperity, drought, and starvation, only to repeat it. Recently the economy was boosted by oil exploration.

In the era of the open range, several cowboys and a cook from the nearby Diamond outfit were attempting to build a buffalo chip fire. Old Dutch Henry told them, 'If you'll go a couple of miles up this creek, you'll find plenty wood.' These words of wisdom were remembered when the town got its start.

At the site of present-day Plentywood, Sitting Bull and his Sioux people surrendered to the U. S. Army after living in Canada for five years. The Outlaw Trail crossed into Canada north of Plentywood. Rustlers moved their stolen cattle and horses along this passage across the border. Butch Cassidy named the trail and established a rest station in the Big Muddy Valley, west of Plentywood. At the turn of the century, the gulches around Plentywood harbored every manner of outlaw. This area was 'the Old West' legend.

After 1910, homesteaders began claiming the territory and things calmed down. Historical accounts are available in promotional pieces in Scobey and Plentywood, and local libraries can assist you.

This lively, small town features exotic animal farm tours and a hot air balloon rally in June. The Sheridan County Museum features the state's longest interior mural, depicting the history of the county..

Plentywood is located in the northeastern most corner of Montana, south of the Canadian border near Port of Raymond crossing.


Cities near Plentywood Montana