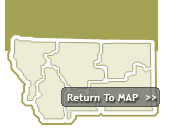 Laurel, the largest city in Montana that is not a county seat, is truly the 'Hub of Montana'. From here, all roads lead to the exciting, historical and recreational attractions of Montana. To the south of Laurel, you can select one of four outstanding entrances into Yellowstone National Park. Heading east there is Billings, Pompeys Pillar and the Little Bighorn Battlefield. North of Laurel is Canyon Creek where the battle between the Nez Perce Indians led by Chief Joseph and the US Cavalry led by Col. Samuel Sturgis took place

.The Chief Joseph Monument on the outskirts of Laurel rests where the famous Nez Perce passed, leading his people toward Canada in 1877. At the Canyon Creek Battlefield, the Nez Perce Indians fought a rear-guard action. While the rest of the band escaped up the canyon, sharpshooters hidden in the canyon wall kept the cavalry at bay. Led by Chief Joseph, Looking Glass, Hush-Hush Cute and others, the Nez Perce were nearing the end of a 1,300-mile flight through Oregon, Wyoming, Yellowstone National Park, and Montana

.There is a rich history that lends itself to Laurel. Riverside Park located south of the Yellowstone River bridge was the site of the German Prisoner of War Camp during World War II. The prisoners built the buildings located in the park. Camping is available in the park. There are showers, water and electricity hook-ups, tent spaces, horseshoe pits, and picnic areas for a minimal fee. Laurel is home of the 1,000-mile check point for Montana Rail Link between here and Sandpoint, Idaho. The town is rich with railroad history, since the existence of Laurel is due in part to the railroad

.The northside of Laurel developed with many businesses and homes. The southside of Laurel was once called 'German Town' because this area was settled by Volga River Germans who immigrated here. These people built their homes to resemble their homes in Russia. These homes are still standing and many have been restored. The eastside of Laurel became known as Railroad Town and many railroaders walked to work over the walking overpass built between the area and the Northern Pacific Car Shop and Roundhouse

.The name Laurel came from a name of a local shrub. One source of the name was attributed to a railroad official from North Carolina who was working here at the time, who named it for the Laurel shrub native to his state. Laurel was originally named Carlton, but was changed in 1882. As time went on, Laurel's location moved west a little. Crow indians were the area's inhabitants when Captain William Clark and his party explored the Yellowstone River in 1806. Settlers were recorded in 1879. By 1888, the town was forming and was incorporated in 1908, and a city council and mayor were elected..

Laurel is located in southeastern Montana, 15 miles west of Billings, at the junction of I-90 and US Highway 212.


Cities near Laurel Montana